Look Inside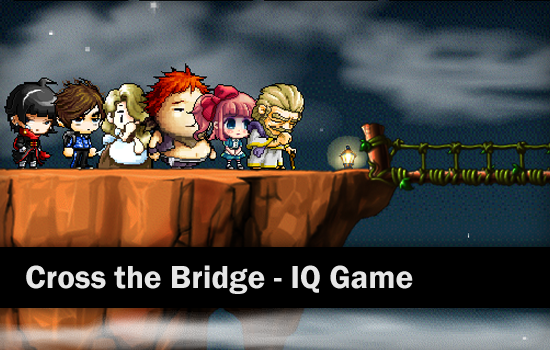 Hello all! Today I would like to share with you a fun IQ Game named Cross the Bridge powered by jQuery and HTML5. This is a pretty challenging and time consuming IQ game/test, and normally it will eat up your 30 minutes or even more to solve it (unless you're Genius or you have done it before LOL).
By the way, if you have nothing to do now, or getting bored with what you're doing now, or you think you're a genius, then you're in the right place now! Try to play and solve this IQ game and see how high your IQ is. =)
Before starting, do let me briefly explain about this IQ game. One day, a family of 6 needs to cross a bridge at night, however, this bridge only allows maximum two persons to cross at the same time, and they must walk together and take the oil lamp before they cross the bridge. But somehow, this oil lamp can only last for 30 seconds, after 30 seconds the fire of oil lamp will went out and they can't cross the bridge anymore. Now your task is to help these family members to cross the bridge within 30 seconds. Try all the possible combinations and help them cross the bridge within 30 seconds. Have FUN and ENJOY!
Objective
Help all of these family members to cross the bridge within 30 seconds.
Rules:
Only one or two characters allow crossing the bridge at the same time.
Each character has different speed to cross the bridge (1s, 2s, 4s, 6s, 8s, 12s).
If a pair of characters cross the bridge, they must walk together with the same speed of the slower character.
All characters must use oil lamp to cross the bridge.
The oil lamp only can last for 30 seconds.
Control:
Click on character's avatar to select those want to cross the bridge.
Click 'GO!' to ask the selected character/s to cross the bridge.
Click 'RESET' to redo the quiz.
The first time I met this IQ test is during my interview section. After that I saw it again but in flash version. So today I decide to convert it into HTML version by using jQuery and HTML5, and make some modification on it. To have better performance, I prefer you using Google Ghrome or Firefox to play this IQ game (will try to make it compatible with other browsers in the future).
If you feel fun and enjoy this IQ game, do LIKE this and SHARE with you friends or family.