Look Inside
Feel bored? Have nothing to do now? Why not Get me the water!? XD
Get me the water! is an IQ game created using jQuery framework by me. Of course, you can distribute it to others as well if you wish so. The most important thing is let's have FUN with it!!!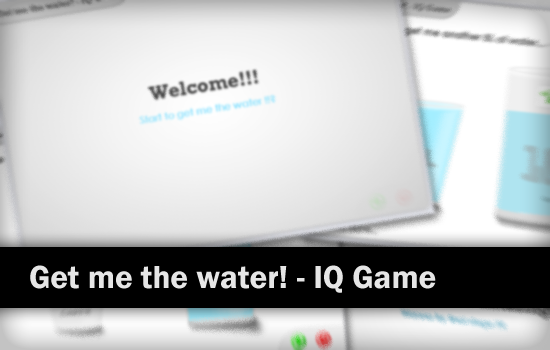 So, what is the objective of Get me the water!? Well, you are giving two different capacities of containers at the same time. Your task is to get the specified water capacity by Game System through these two containers. You could fill the containers with water, or empty the container's water. Also, you might pour water from one container to another one. Whatsoever, you will get to know more when you are being played. Let's go!
This IQ Game shouldn't be that hard to you. To make this more challenging, try to complete it with as little steps as possible, and gains different IQ rank. If still, you found not that challenged, try my previous IQ Game – Cross the bridge – IQ Game.  =)
How to play
Container's controls
* You have to mouseover the container to make these controls appear.
Fill current container with water.

Empty current container.

Pour water of current container to container beside.

Proceed to next stage.
Game controls
Reset current stage.

Reset game.