Look Inside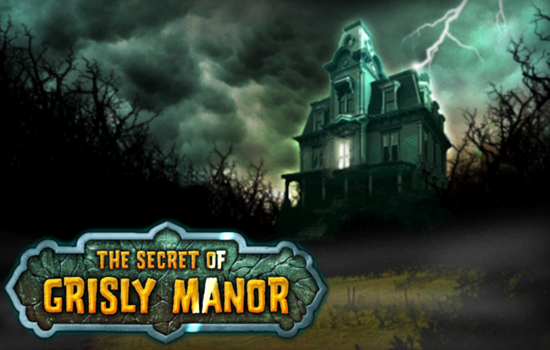 The Secret of Grisly Manor is a combination of hidden object, puzzle, detective, and adventure game by Fire Maple Games using HTML5 and JavaScript. The game contains a lot of scenes with attractive graphics and chilling soundtrack, but this is not a scary/spooky game, thus you can play it without fear even though you're a scaredy-cat.
By the way, there's no "hotspot" indicated during the game, you have to use your brain power and figure it out by yourself. The navigation of this game is pretty simple, just look around the scene and click on the place of interest. To use an item you picked up, open your bag/inventory and select the item you wish to use, after that click on the place you want it to be use. You can always go back to title screen during the game without losing the current progress, since the game will save the progress using HTML5 Local Storage.
The story began at the time when you received a letter from your Grandpa, a famous inventor who was reported missing some time ago. In the letter, Grandpa asks you to come over his manor with a promise to show you something truly amazing. It's a dark and stormy night as you arrive at manor. You find nobody there to greet you, but you got a feeling that Grandpa is presence somewhere else in the manor. Hereby, the first scene of the game, you have to find a way to get into the manor. Enjoy!
There are few puzzles you need to solve to get the 'key' proceed to deeper or unlock scenes. You have to connect two or more different objects together in order to get the 'tips' and 'tricks' for these puzzles. Anyway, the ending of this game is quite funny and it might be out of what you've expected!